SERVICE THROUGH

STRONG BROTHERHOOD
---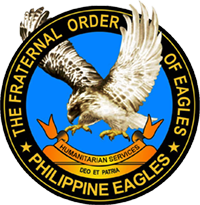 The Fraternal Order of Eagles Philippine Eagles is the first born fraternal socio-civic organization in our country. It is a movement, an idea kindled by the founders- to nurture with the fire of brotherhood. Spearheaded by zealous organizers from the members of the society clamoring for a change in vision and concept to widen its horizons, to forever forge an amalgam of the rare breed of fellows amidst an apochrypal panorama. Common yet unique, simple but a stand out, proud but not meek, singular but not alone, selected yet not confined and daring yet grandiose and sure.
We are most aware of many organizations in our milieu that have come and gone, many of slam-bang caput, as they say, starting with a boom and ending in a whisper. The Philippine Eagles shall have realized those portents and early signs of doom by a careful analysis of its steps and actions. As to that, there can be no debate. TFOE.ORG
THE EAGLES DAWN
They were barely six or seven when they initially met at the Aberdeen Court, Quezon Avenue, Quezon City. The second meeting was probably a bigger group perhaps only thirteen of them. No clear or specific agenda was prepared. Nothing was definite in the minds of the group except the fixed rendezvous at the Aberdeen Court. None of them consciously knew that the meetings they had hurriedly arrange were already the inception of a historical rendezvous which was to eventually have some fixed destiny in the country.
The nucleus group grew in numbers every time it met. The original paltry nucleus was composed of Nilo H. Raymundo, Pedro R. Balbanero, Celso P. Mariano, Cirsanto T. Saruca, Rizal Alberto C. Nolido, Eugenio E. Llarena, Elueterio C. Dumogho, Mel P. Samson, Lorenzo "Choc" Tolentino, Mel V. Diaz, Dominador DL. Ordenez, Ambrocio A. Valones and Arturo Purugganan, all prominent Lion members of District 301-D of Lions Clubs International.
---
---
---
March 25, 2021
Paperless ID Application. Go to our TFOE portal/website (TBA), Login, fill-up your bio-data and basic information,
[…]
March 24, 2021
TFOE-PE 41st National Assembly 39th National Congress Limketkai, Cagayan de Oro City March 19-20, 2021